This week on Story Signals, I'm sharing the lessons I've learned from the first 25 episodes of the show. It's coming up on a year since I had the first inkling of an idea for this podcast, and now being six months in, I've got a lot to share. This is the longest solo show I've had so far, and it's packed full of the best tips, lessons, quotes, and strategies from my experience hosting Story Signals, and the phenomenal guests we've all been able to learn from. Enjoy!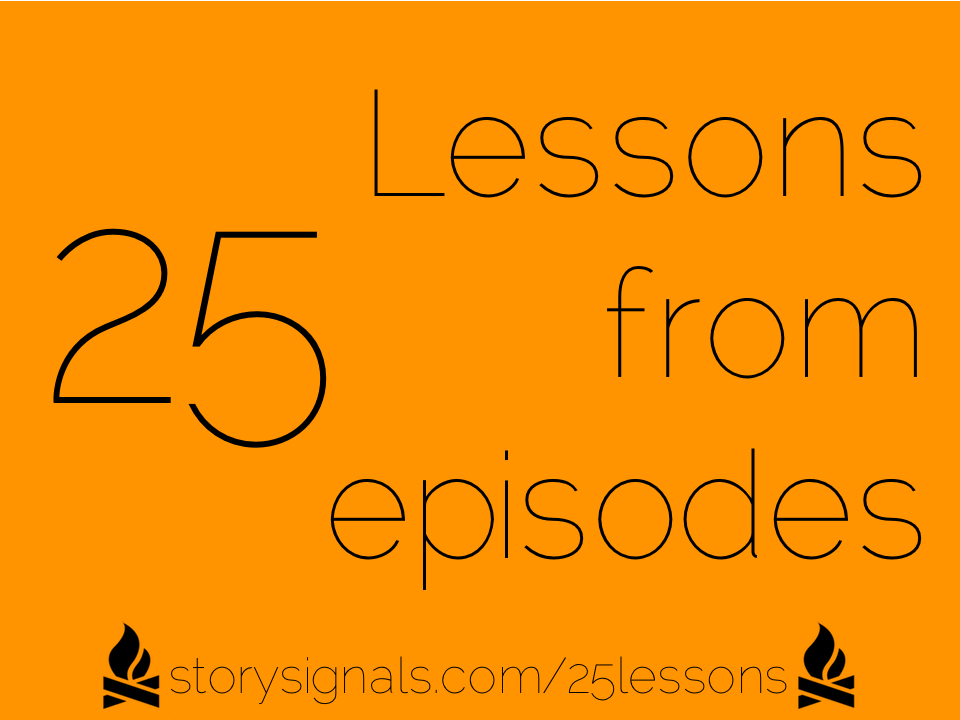 Listen here
Click to download the episode directly
The List: 25 Lessons from 25 Episodes
2. Surround yourself with passionate, supportive people
3. Read more than you watch – learned from Jeff Brown, Eric Zimmer
4. Practice, practice, practice – listen to more on this from episode 24
5. Contraints are a gift – learned from Mike Rohde, Jedd Rose
6. Set upper limits – learned from James Clear
7. Take smart risks – learned from Tyler Tervooren
8. Cut out what doesn't matter – learned from Matt Frazier, James Clear
9. Don't be afraid to ask – learned from emailing lots of guests, especially "famous" ones!
10. Provide value and help others – learned from Jeff Goins
11. Stuff won't fulfill you – learned from Joshua Becker
12. Love without expectations is the most wonderful gift we can give – learned from Branden Harvey
13. Guard your time – learned from a rejection email Mason Currey sent me
14. To make a difference, step 1 is showing up! – learned from John Sowers
15. Multiply the talents of people around you – learned from Jeff Brown 
16. Focus on the principles of your craft and connecting with others. Then you can see where the changes are coming and adapt quicker than others! – learned from Mike Rohde, Jon Acuff
17. Clean the lens of your perspective. Ask yourself, what is the long-term impact vs short-term gain? – learned from Eric Zimmer
18. The journey is the reward – learned/reminded from Allison Vesterfelt
19. The daily choice between fear and faith – learned from Jon Gordon
20. The power of limiting beliefs and personal rejection – why you should try first, and limit later – learned from Benny Hsu, Jeff Goins
21. Life is not about you, you are about life! – learned from Jeff Goins, Benny Hsu, Richard Rohr
22. Find a simple, effective solution, and then make it the best solution – learned from Jedd Rose
23. Don't be afraid of rejection. Open yourself up to the world, and the world will open itself to you – learned from Jia Jiang, Allison Vesterfelt
24. No one is giving out money – learned from Brendan Leonard
25. You are enough – the most important lesson I've learned. For more, check out episode 21.
Want more? Stay in the Story Signals community!
Thanks for checking out this episode of Story Signals. If you'd like to be notified when a new episode is available, here's the ultimate list of resources to get started. After, there are 2 easy ways to stay involved and keep listening.
If you think Story Signals is deserving, leave a 5 star rating on iTunes or Stitcher. Click here for iTunes, and click "View in iTunes" – "Reviews & Ratings" – "Write a Review" (see the screenshots). For Stitcher, click here.

Share with a friend! I would be very appreciate of your recommendations to family, friends, and social networks. If you mention me, @MattRagland, or @StorySignals on Twitter, I'll be sure and retweet the share! Just share StorySignals.com – StorySignals.com/itunes – StorySignals.com/stitcher.