I'm happy to have Benny Hsu of Get Busy Living on Story Signals this week, he's a great guy and a fellow Jacksonville native. Benny is an app developer, author, speaker, and podcaster, making his online home at GetBusyLivingBlog.com. I've really enjoyed Benny's writing and storytelling ability over the past couple of years, and it's plain to see he's a guy who communicates well and helps people change their lives.
If you're joining us at Story Signals for the first time, welcome! The show focuses on lessons we can learn on living with purpose, clarity, and meaning. There are several ways to subscribe and listen, including on your smartphone or computer. Check out your options here.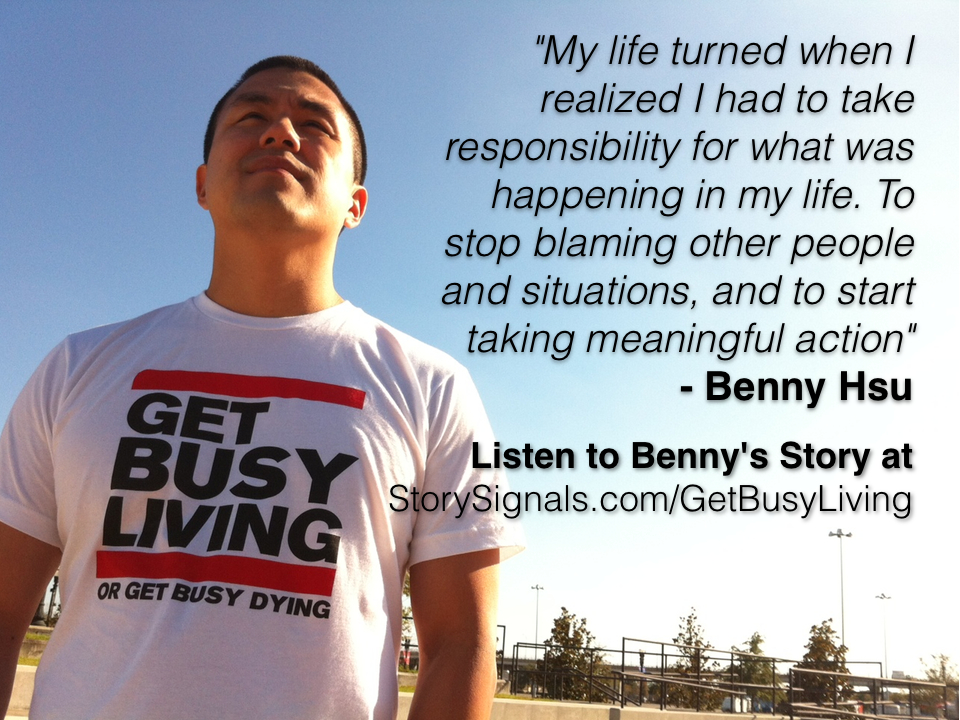 After spending a few years in the family restaurant business, Benny was ready to make a change, and the change was initiated by a letter he wrote to his past and future self. Those letters, along with inspiration from Pat Flynn, helped Benny take action and create a change in his life. Enter iPhone app Photo365. Long story short (you'll hear it on the show), Benny made $30,000 in 30 days on Photo365! His life was changed, though the success wasn't what he expected.
Back to the interview… Benny shares so many good lessons and tips for us, and I can't wait for you to hear it. We cover topics like responsibility, habits, internal struggle, family dynamics, creative focus, and so much more. But to me, three lessons really stood out.
You have to take responsibility for your own life and begin taking action. Sitting around and wishing things will change is not the same as intentionally moving towards the change you wish to see.

Focus on one big project at a time. This is where you will see the fastest and most valuable results, whether the project works out or not. It's difficult to work on several big projects at once, because then you'll be spread too thin to put the full force of your creativity into the mission.

Don't limit your beliefs. Remember the story Benny told? Since no one told the student the statistics problem was impossible, he approached it as entirely possible! Jeff Goins talked about this in episode 10 as well, further emphasizing the point of not placing limiting beliefs on ourselves or other people.
Listen here
Great Quotes
My life turned when I realized I had to take responsibility for what was happening in my life. To stop blaming other people and situations, and to start taking meaningful action.

My overnight success was 5 years in the making

Get Busy Livin' or Get Busy Dyin' – Red from the Shawshank Redemption
Resources
Connect and Say Thanks!
Help Story Signals hit iTunes New & Noteworthy!
Want to help Story Signals hit the front page of iTunes podcasts? Here are 3 quick ways to help.
If you think Story Signals is deserving, leave a 5 star rating on iTunes or Stitcher. Click here for iTunes, and click "View in iTunes" – "Reviews & Ratings" – "Write a Review" (see the screenshots). For Stitcher, click here. 

Subscribe and download the Story Signals podcast! You'll get each episode delivered the best way for you, whether through iTunes, Stitcher, Downcast, or something else. Here's the ultimate list of resources to get started.
Share with a friend! I would be very appreciate of your recommendations to family, friends, and social networks. If you mention me, @MattRagland, or @StorySignals on Twitter, I'll be sure and retweet the share! Just share StorySignals.com – StorySignals.com/itunes – StorySignals.com/stitcher.