I'm really excited to have photographer Branden Harvey on this episode of Story Signals. Branden is an immensely talented photographer and storyteller, and is one of the best I've seen at having the courage and skill of drawing out the stories of other people. Let me give you an example:
Branden is the creator of the instagram movement #storyportrait, and proudly states on his profile his belief that your story matters. He does this by essentially sharing instagram long-form, digging in to the life and story of the people he's photographing. But the reach of #storyportrait has grown beyond Branden, and over 16,000 people have submitted their own stories using the hashtag.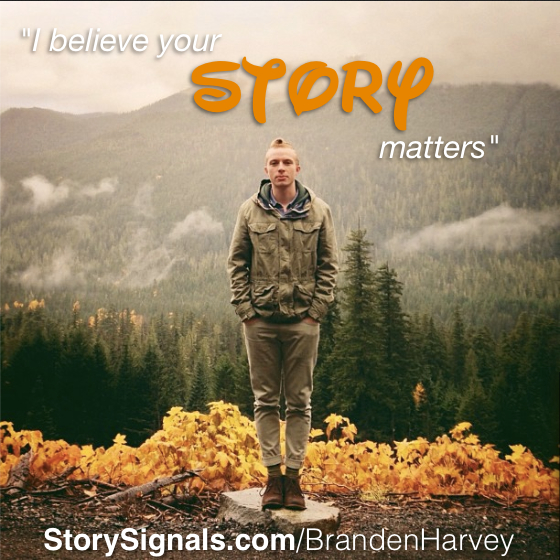 If you're joining us at Story Signals for the first time, welcome! The show focuses on lessons we can learn on living with purpose, clarity, and meaning. There are several ways to subscribe and listen, including on your smartphone or computer. Check out your options here.
Besids his succes at building community on Instagram, Branden is also a sought-after wedding and fashion photographer, and spent the majority of 2013 traveling around the USA , plus visiting the Phillipines and China. Branden has a lot going on, and I was very grateful he spent a little time sharing his story with us.
Speaking of which, I know you'll learn a lot from Branden is this episode. We talk a lot about creativity, facing fear, the value of mentors, and balancing art with social connection. But to me, three lessons really stood out.
What You'll Learn
Why Branden turned down his first big fashion shoot, and how he got it back.
How to dig in to people's stories and find out more about what makes them different and special.
The defining characteristic of who Branden calls the "secretly incredibly people of the world".
Listen here
Great Quotes
I want to live a life that demands an explantion.

Do what gives your stomach the willies.

The pitfall of modern artists is working to impress people on social media when we should be working to make better art.
Resource list
Where to connect with Branden
Want more? Stay in the Story Signals community!
Thanks for checking out this episode of Story Signals. If you'd like to be notified when a new episode is available, here's the ultimate list of resources to get started. After, there are 2 easy ways to stay involved and keep listening.
If you think Story Signals is deserving, leave a 5 star rating on iTunes or Stitcher. Click here for iTunes, and click "View in iTunes" – "Reviews & Ratings" – "Write a Review" (see the screenshots). For Stitcher, click here.

Share with a friend! I would be very appreciate of your recommendations to family, friends, and social networks. If you mention me, @MattRagland, or @StorySignals on Twitter, I'll be sure and retweet the share! Just share StorySignals.com – StorySignals.com/itunes – StorySignals.com/stitcher.