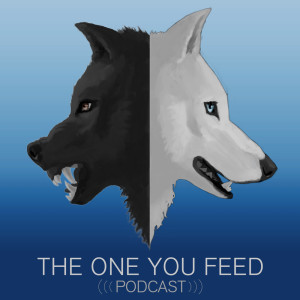 Eric Zimmer is the host of The One You Feed podcast, one of the top shows on iTunes and one I listen to on a regular basis. An aspect of this interview I really enjoyed was Eric's skill as a storyteller, and he shares a couple of his favorite parables with us. I really appreciated his vulnerability with some of the messy parts of his story, and that's a vital aspect of any story we're living. The messiness is what teaches us and brings us together as people, and I'm thankful Eric brought that darkness to light.
 Now, of all the lessons and stories Eric shared, these three really stood out.
What you'll learn
Avoiding the negative self-talk is an integral part of our stories. When we can recognize it, name it, and even talk back a little, we decrease it's power and allow our good wolf to feed!

We all have the tendency to be addicted to something. Don't get caught thinking that just because you're not hooked on drugs or alcohol that something else isn't battling for your time and attention. We can be addicted to money, status, power, possessions, and countless other things. It's important to have a community around you to help stay in check.

Clean the lens of your perspective regularly, and frame your choices in the mindset of what will make me happy in the long run, not what will make me comfortable now.
Listen here
Resources mentioned in the show
Connect with Eric & The One You Feed
Want more? Stay in the Story Signals community!
Thanks for checking out this episode of Story Signals. If you'd like to be notified when a new episode is available, here's the ultimate list of resources to get started. After, there are 2 easy ways to stay involved and keep listening.
If you think Story Signals is deserving, leave a 5 star rating on iTunes or Stitcher. Click here for iTunes, and click "View in iTunes" – "Reviews & Ratings" – "Write a Review" (see the screenshots). For Stitcher, click here.

Share with a friend! I would be very appreciate of your recommendations to family, friends, and social networks. If you mention me, @MattRagland, or @StorySignals on Twitter, I'll be sure and retweet the share! Just share StorySignals.com – StorySignals.com/itunes – StorySignals.com/stitcher.