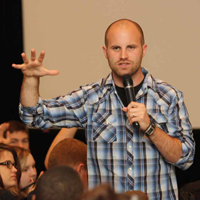 Today is episode 30 of the Story Signals podcast, and I'm so glad to welcome Grant Baldwin.
Grant is a speaker, writer and podcaster who helps people find and do the work they love. His main speaking gigs include grade school and college students, educator groups, and churches. His message of the intentional pursuit of meaningful, important work is one we all need to hear.
I had a great time speaking with Grant. We have a lot of common ground in our childhood, educational development, and experience transitioning to independent work. With his speaking and podcasting background, it was a very smooth conversation, and one I didn't have to edit much (thanks Grant)!
There are several aspects of this show I think you'll glean wisdom from. Here are several that stood out to me.
Episode Standouts
When you transition from a steady job (and paycheck) to independent work, plus the balance of frustration and excitement which accompanies it.
How to better communicate your goals and desires.
Effective ways to deconstruct big goals in to daily and weekly action steps.
Why the unplanned moments in our life are big chances to chine.
Why who you are is more important than what you do.
Ready to Listen?
Favorite Quote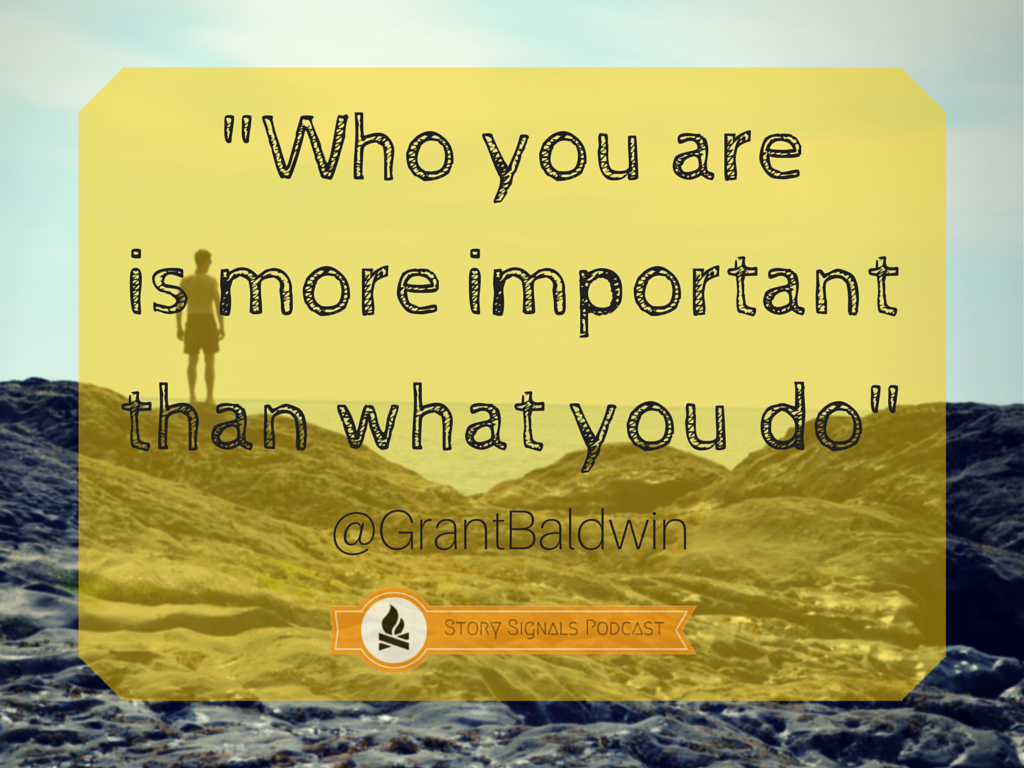 Resources and Connect with Grant!
Quick Question for You!
If yo don't care about the preamble, skip to the next header.
To my dismay, it's been almost a month since the last Story Signals episode. I love doing this show, it's the most fun I have online. But there are two aspects of the show's setup that make it difficult to put out a weekly show (at least for me). Both are self-inflicted, by the way.
One, I try and always have a guest on the show. It's more fun for me, and I believe it's a better experience for you, the listener. Instead of always listening to me, you get the expertise of the guest, keeping the show diverse and fresh. The drawback is scheduling interviews can be tough. If creating time to sit and record a 30 minute solo show is tough, now add in another person's schedule! For example, this interview with Grant was scheduled 4 weeks in advance!
Two, I'm over-committed right now in my professional life. I drive the bus at 6:30am, go to UPS, head to coach, and then get home at 5:30pm. I'm not complaining, it just doesn't leave much time for interviews.
Ok, here's the question…
Want more? Stay in the Story Signals community!
Thanks for checking out this episode of Story Signals. If you'd like to be notified when a new episode is available, here's the ultimate list of resources to get started. After, there are 2 easy ways to stay involved and keep listening.
If you think Story Signals is deserving, leave a 5 star rating on iTunes or Stitcher. Click here for iTunes, and click "View in iTunes" – "Reviews & Ratings" – "Write a Review" (see the screenshots). For Stitcher, click here.

Share with a friend! I would be very appreciate of your recommendations to family, friends, and social networks. If you mention me, @MattRagland, or @StorySignals on Twitter, I'll be sure and retweet the share! Just share StorySignals.com – StorySignals.com/itunes – StorySignals.com/stitcher.