Our guest this week on Story Signals is James Clear, a writer, photographer, and entrepreneur. James' story is inspiring not because of drastic changes he has made, but primarily because of the small, incremental changes that have yielded big results. We talk about his life and work, the trick of upper boundaries, why humans are like rose bushes, and much more. I really enjoyed our conversation, and there is so much to use right away, with lots of actionable tips.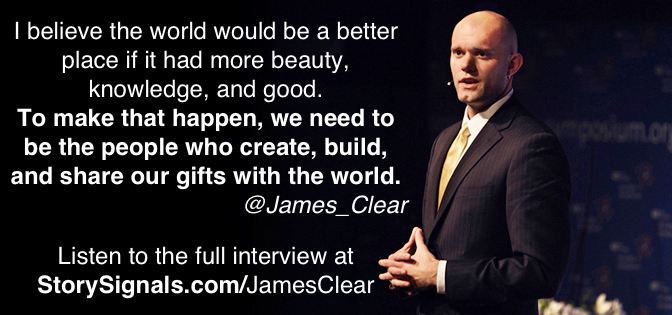 What You'll Learn
We can use all kinds of excuses to keep us from taking action and doing the work that matters to us. One of the biggest excuses is "I just need to improve my skills a little more". The good news is you will always be improving your skills, but once you get started, you'll have a better filter for choosing which skills apply to your work.
Humans are like rose bushes. A careful, intentional gardener will prune away many flowers so that a few roses can grow and bloom to the height of their beauty and potential. As we eliminate some of the choices and habits that choke our growth, making the right decisions become easier.
If you have a big goal, let's break it down to small, incremental gains you can make on a regular basis. Applying the rule of upper limits really helps with this. If you need to start exercising, decide that you can only exercise for 5 minutes a day to start. Then after several weeks, start increasing the upper limit in a small way, until you've reached your goal.
Listen here
Resources
Connect with James
Want more? Stay in the Story Signals community!
Thanks for checking out this episode of Story Signals. If you'd like to be notified when a new episode is available, here's the ultimate list of resources to get started. After, there are 2 easy ways to stay involved and keep listening.
If you think Story Signals is deserving, leave a 5 star rating on iTunes or Stitcher. Click here for iTunes, and click "View in iTunes" – "Reviews & Ratings" – "Write a Review" (see the screenshots). For Stitcher, click here.

Share with a friend! I would be very appreciate of your recommendations to family, friends, and social networks. If you mention me, @MattRagland, or @StorySignals on Twitter, I'll be sure and retweet the share! Just share StorySignals.com – StorySignals.com/itunes – StorySignals.com/stitcher.