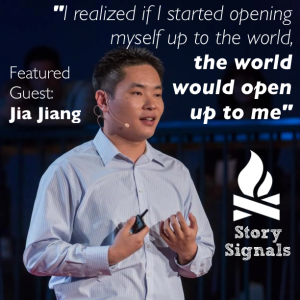 Jia Jiang is a blogger, speaker, and soon-to-be-author, focusing on overcoming fear and rejection. His talks at TED and World Domination Summit have been viewed over 100,000 times, and his blog FearBuster.com helps people overcome their fear of rejection every single day.
I saw Jia speak at Storyline Conference in Nashville, and knew I wanted to have him on the show. Fear is definitely something we all struggle with, and fear of rejection especially! When we take a risk, we are putting our ego on the line, and people can reject us. The question becomes "are you secure enough to absorb rejection?"
The biggest takeaway from Jia's story is how he believes a fear of rejection closes us off from what the world has to offer. Here's the quote:
"I felt rejection was so scary, but then people started saying yes. I realized if I started opening myself up to the world, the world would open itself to me"
Another interesting aspect we talk about is the physical and psychological effect of fear. Did you know that when you begin to experience anxiety (fear) on perceived rejection, your body begins to react as if the rejection has already taken place! In fact, research has shown that our rejection and pain receptors share neurocognitive substrates, simply meaning they're linked in important ways.
Throughout his 100 Days of Rejection, Jia realized that people were not out to reject him. In fact, many people wanted to join in for the adventure! This was the case when Jia asked Jackie to make the Olympic Rings using Krispy Kreme donuts. What happened next was a little bit more than he expected!
Not only did Jackie want to come along in the adventure, she got back in touch with Jia nine days later to let him know she had perfected the design!
Stories like this exist everywhere, we simply need to be willing to open ourselves up to the world, so the world can open itself up to us!
Jia's favorite quote is from the movie The Pursuit of Happyness. In the scene, Will Smith's character has just told his young son that the dream of playing pro basketball isn't very realistic. His son quickly loses interest in the shoot-around, and Dad realizes he's made a mistake. He tells his son,
Don't ever let someone tell you that you can't do something, not even me. You gotta dream, you gotta protect it. People can't do something themselves, they wanna tell you that you can't do it. You want something, go get it. Period.
Now, maybe we can't all play pro sports, but there are dreams within all of us that we've been told can't work. I find the naysayers are usually attacking from a sense of regret over their own dreams left unrealized. So they try and keep you down. Don't let them. You want something, go get it. Period.
Listen to the Interview
Where to find Jia
Jia's Speaking
Other Resources
Help Story Signals hit iTunes New & Noteworthy!
Want to help Story Signals hit the front page of iTunes podcasts? Here are 2 quick ways to help, and they all point to the same place.
If you think Story Signals is deserving, leave a 5 star rating on iTunes. Click here, and click "View in iTunes" – "Reviews & Ratings" – "Write a Review" (see the screenshots)

Share with a friend! I would be very appreciate of your recommendations to family, friends, and social networks. If you mention me, Matt Ragland, or Story Signals on Twitter, I'll be sure and retweet the share! Just share StorySignals.com or StorySignals.com/itunes.