Joshua Becker writes and shares his wisdom at BecomingMinimalist.com, a wonderful site full of stories and ways to begin your journey of living with less. He's the author of Simplify, Clutter Free with Kids, and other great books. This interview is packed with stories and advice that will challenge you and even leave you a little frustrated. Why? Because the truth is that many of us have too much stuff, and spend our time on things we don't care that much about.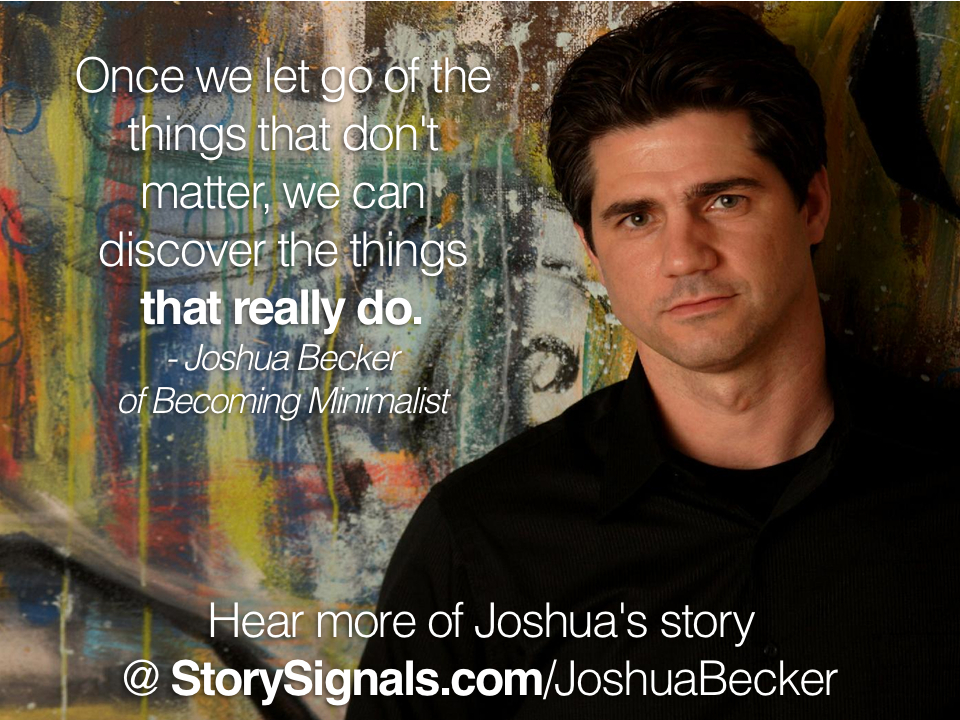 For Joshua, the moment of clarity came when he was cleaning out his garage, trying to organize all of his stuff, much of which he couldn't remember why he bought in the first place. While this was happening, his 5 year old son was playing in the backyard, and Joshua was frustrated at how long the garage project was taking. He took a moment to share this with his neighbor, who surveyed the pile and said the words that changed his life.
Well, maybe you don't need this much stuff.
This was a turning point, when a guide had the wisdom and courage to point out a problem and offer a solution (albeit simple and concise). Joshua realized that none of his stuff was bringing him lasting happiness, in fact it was distracting him from the the things that did make him happy and fulfilled!
Joshua points out the danger of cluttering our homes with stuff is more than simply the physical space it occupies, but the mental space it accumulates! When we have a lot of stuff, we have to organize, clean, maintain, and finally replace all of that stuff, and that takes up great physical and mental energy which could be better spent. Joshua shares so many good lessons and tips for us, and I can't wait for you to hear it. But to me, three lessons really stood out.
What You'll Learn
The possessions we accumulate will never make us happy simply by owning them. What makes us happy are the relationships, experiences, and contributions we make to the world.
A journey of living with less is not simply about making fewer things the meaning of your life. It's about intentionally asking yourself each day what brings life to you and your community, and pursuing those life-giving actions, not filling your life with more stuff.
Whatever we think is going to be the end-all-be-all solution to our discontent and unhappiness will routinely disappoint us, unless we can learn to be happy, content, and fulfilled with what we already are blessed with. While many people focus on physical possessions, this can also include travel, power/promotions at work, wealth, and anything else that we may try and make the end goal.
Listen here
If you're joining us at Story Signals for the first time, welcome! The show focuses on lessons we can learn on living with purpose, clarity, and meaning. There are several ways to subscribe and listen, including on your smartphone or computer. Check out your options here.
Great Quotes
All the things we own and accumulate are not bringing us lasting happiness. Even worse, they are distracting us from the things that do bring us happiness.
It's not until we start to remove unnecessary things and pursuits from our lives that we can find the freedom to start living the story we want to live.
Resource list
Where to connect with Guest
Want more? Stay in the Story Signals community!
Thanks for checking out this episode of Story Signals. If you'd like to be notified when a new episode is available, here's the ultimate list of resources to get started. After, there are 2 easy ways to stay involved and keep listening.
If you think Story Signals is deserving, leave a 5 star rating on iTunes or Stitcher. Click here for iTunes, and click "View in iTunes" – "Reviews & Ratings" – "Write a Review" (see the screenshots). For Stitcher, click here.

Share with a friend! I would be very appreciate of your recommendations to family, friends, and social networks. If you mention me, @MattRagland, or @StorySignals on Twitter, I'll be sure and retweet the share! Just share StorySignals.com – StorySignals.com/itunes – StorySignals.com/stitcher.