Mike Rohde is one talented guy. Author of the best selling Sketchnote Handbook, illustrator of ReWork, Remote, The $100 Startup, and The Little Book of Talent, and these are just his side projects! Mike is a designer at heart, and the iterations of his career taught him the value of being adaptable and a willingness to embrace change.
Win a copy of The Sketchnote Handbook!
Mike is giving away a copy of his book to a Story Signals listener! To be eligible, go over to the Story Signals Facebook page, then like and share Mike's post. It will look like this: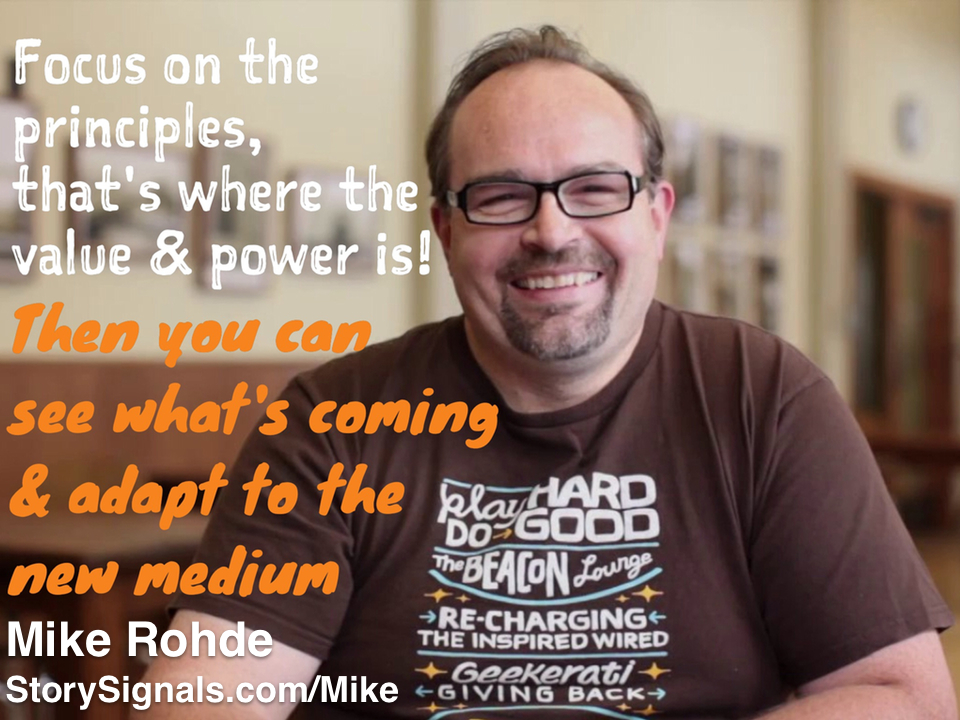 The interview goes live on February 17th, and will close on February 21st. We will announce the winner on February 22nd on the Facebook page.
I first heard about Mike through his illustrations for ReWork (one of my top business books), and loved his approach to visual note-taking and creative thinking. When The Sketchnote Handbook came out, I pre-ordered it and absorbed all the lessons Mike and his fellow sketchnoters had for me. Mike's approach has improved my own creative process beyond just note-taking, leaking in to design, user experience, process flow, and general art. At the core, sketchnotes have allowed me to tap in to my artistic side, which had mostly lain dormant since childhood.
Here are a couple examples of Mike's process and work. I hope they encourage you to get out a pen and paper and begin sketching!
Mike & The Sketchnote Process
Storyline Conference Sketchnotes
Memorable Quotes
"The best thing you can you can learn in school is how to learn! The principles of learning remain the same, regardless of the medium"

"As a designer, a lot of times you can arrive at a solution by limiting yourself"

"How do I accept this journey I'm on, and make the best of it, and see the value and lessons of it, so you're ready when someone else runs in to a similar situation"
Listen to the Interview
Where to find Mike
Resources
Help Story Signals hit iTunes New & Noteworthy!
Want to help Story Signals hit the front page of iTunes podcasts? Here are 2 quick ways to help, and they all point to the same place.
If you think Story Signals is deserving, leave a 5 star rating on iTunes. Click here, and click "View in iTunes" – "Reviews & Ratings" – "Write a Review" (see the screenshots)

Share with a friend! I would be very appreciate of your recommendations to family, friends, and social networks. If you mention me, Matt Ragland, or Story Signals on Twitter, I'll be sure and retweet the share! Just share StorySignals.com or StorySignals.com/itunes.