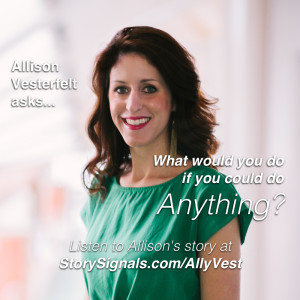 I'm so glad to have Allison Vestefelt on this week's episode of Story Signals. Allison is a writer who has recently moved from Portland to Nashville, and she has an incredible story to share with us today. Her book, Packing Light, has become a best-seller, and we talk about her road trip to all 50 states, her personal journey to becoming a published writer, and all the messiness that comes with being in great relationships. I loved the book, the messages of courage, risk, sacrifice, and relationships all spoke to me at a very important time in my life.
Allison shared a lot of wisdom and great advice for us on our own journeys, especially when we feel a little stuck in the same-old-same-old. We talked about pursuing your calling, bravery, a willingness to get out in to the party, and the delicate balance between taking action and trusting in the big picture. Again, there are so many great stories and takeaways from the interview, but here are the three points that really stood out to me.
What You'll Learn
Take small steps towards your goals, instead of being intimidated by the bigness of it. Break it down to smaller goals you can accomplish weekly or daily, and go from there! This leverages the "winner effect" we talked about.
Ask yourself "what would I do if I could anything"? What unique gifts do you have that can serve the greater good? Is there a way for you to begin pursuing this in small ways?
Remember that the journey is the reward. We need to appreciate the adventure while we're living it, and not make the end goal the only part we enjoy or are fulfilled by.
Listen Here
Great Quotes
Creating good art is waking up every day and getting over yourself.

There is nothing more humbling than putting your art out into the world.

What would you do if you could do anything?
Resources
Connect with Allison & Say Thanks!
Want more? Stay in the Story Signals community!
Thanks for checking out this episode of Story Signals. If you'd like to be notified when a new episode is available, here's the ultimate list of resources to get started. After, there are 2 easy ways to stay involved and keep listening.
If you think Story Signals is deserving, leave a 5 star rating on iTunes or Stitcher. Click here for iTunes, and click "View in iTunes" – "Reviews & Ratings" – "Write a Review" (see the screenshots). For Stitcher, click here.

Share with a friend! I would be very appreciate of your recommendations to family, friends, and social networks. If you mention me, @MattRagland, or @StorySignals on Twitter, I'll be sure and retweet the share! Just share StorySignals.com – StorySignals.com/itunes – StorySignals.com/stitcher.