Jedd Rose is the founder and lead designer at Topo Designs, an outdoor and lifestyle brand based in Colorado. I've been admiring Topo products for a while, and really enjoyed getting know the mind behind the mission.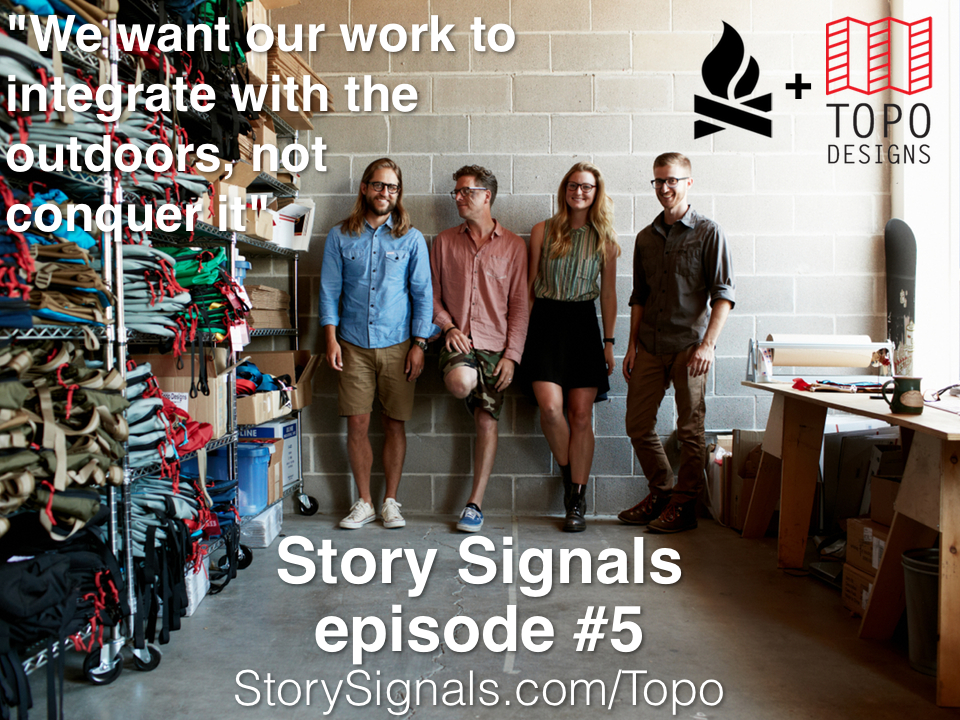 One striking aspect of Topo Designs' gear is the retro styling the founders grew up with in the 60's and 70's. Jedd and Mark also draw a lot of inspiration from simple Japanese design and craftsmanship, consistently seeking to make a product that integrates with the environment. Adding features is no longer an issue these days, a thousand options lay at your feet. The challenge is making a product and living a life that focuses on the essential elements.
Here's my favorite quote from our talk…
We want Topo gear to do exactly what is needed in your outdoor adventures, but nothing more. The pack should be a integrated in to the experience, and not conquer it. In a way, we want the gear to get out of the way and allow the outdoorsman to take in the majesty of the outdoors without fussing with his pack.
I think about how often I try and trade up again and again for the latest and greatest, thinking the gear with more bells and whistles will improve my performance or experience. Obviously there's a baseline of tech which helps, but I think mentally we stuck on the hamster wheel of "if I had this tool things would be better". The value of continually upgrading isn't always worth the energy, and I certainly believe the returns diminish quite rapidly after hitting the baseline.
Topo tries to follow this process and mindset of simplicity and experience in the outdoors and in life. Jedd summed up their ethos with this quote:
Think canoe vs. motorboat. We're the canoe. Handmade, artistic, and gliding smoothly along the water, connected to the environment.
I know you're going to enjoy this interview, go ahead and listen below, or even better yet, subscribe and get each episode delivered to your smartphone or desktop!
Where to find Jedd
Other Resources
Help Story Signals hit iTunes New & Noteworthy!
Want to help Story Signals hit the front page of iTunes podcasts? Here are 3 quick ways to help.
If you think Story Signals is deserving, leave a 5 star rating on iTunes. Click here, and click "View in iTunes" – "Reviews & Ratings" – "Write a Review" (see the screenshots)

Subscribe and download the Story Signals podcast! You'll get each episode delivered the best way for you, whether through iTunes, Downcast, AttennaPod, or something else. Here's the ultimate list of resources to get started.
Share with a friend! I would be very appreciate of your recommendations to family, friends, and social networks. If you mention me, Matt Ragland, or Story Signals on Twitter, I'll be sure and retweet the share! Just share StorySignals.com or StorySignals.com/itunes.