This week I'm very excited to be sharing the story of John Sowers, President of The Mentoring Project and author of The Heroic Path. John shares with us his story of working with Billy Graham, heeding the call to shift his focus to the plight of fatherless youth, leading TMP with Donald Miller, and much more. We also talk about being a father to twin girls, how a journal entry the night of their birth was the catalyst for Heroic Path.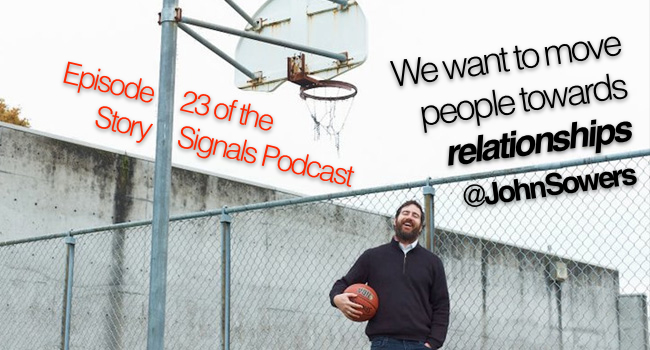 I've been fortunate to see John speak a couple of times, and connect with him at conferences, and he definitely practices what he preaches (as well as any of us can). It's refreshing to see someone intentionally focus so much on improving the lives of people around him, and equipping them with the tools to change their communities as well.
The First Step is Showing Up
The most important part of our talk was John's point that the best thing we can do as mentors is to simply show up! This is the crucial first step, but too often we don't take it because of the subsequent steps! This applies throughout all kinds of things in life. Show up, be present, give your life away. Repeat tomorrow.
Listen here
click here to download directly
Resources
Want more? Stay in the Story Signals community!
Thanks for checking out this episode of Story Signals. If you'd like to be notified when a new episode is available, here's the ultimate list of resources to get started. After, there are 2 easy ways to stay involved and keep listening.
If you think Story Signals is deserving, leave a 5 star rating on iTunes or Stitcher. Click here for iTunes, and click "View in iTunes" – "Reviews & Ratings" – "Write a Review" (see the screenshots). For Stitcher, click here.

Share with a friend! I would be very appreciate of your recommendations to family, friends, and social networks. If you mention me, @MattRagland, or @StorySignals on Twitter, I'll be sure and retweet the share! Just share StorySignals.com – StorySignals.com/itunes – StorySignals.com/stitcher.