Matt Frazier is the founder of No Meat Athlete, a thriving online community focusing on vegan, plant-based nutrition, and the athletes who are fueled by plants. You may think a vegan athlete site is a strange combination of interests, and five years ago, you'd be right!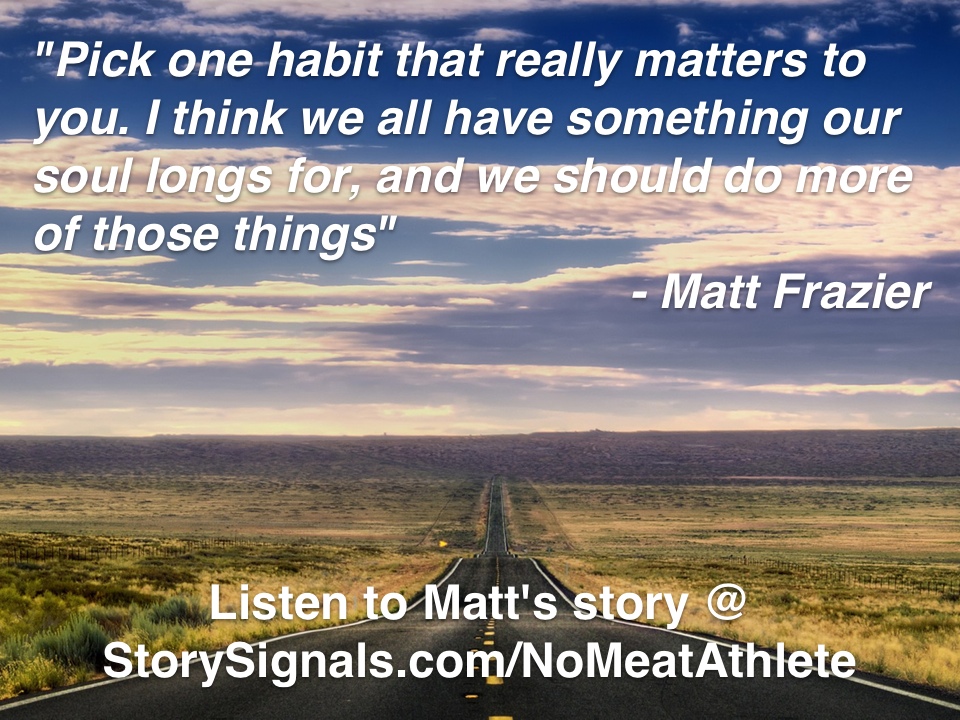 The story begins when Matt was in grad school, and began transitioning in to a vegan lifestyle. At the same time, Matt was running marathons, and saw a lack of advice for vegan athletes. Like many good entrepreneurs, Matt scratched his own itch, and began sharing his findings and experiments at NoMeatAthlete.com. The site grew as more and more people who had arrived at the same crossroads in their journey, and were delighted to find someone was writing and sharing information about vegan fitness!
What you'll learn
Don't be afraid of a narrow niche! We discuss the crossroads strategy, and how people will find their way to the topic you're building authority in. Who ever thought of plant-based fitness sites?
Be intentional with your time. If there is something you really want to do, whether the dream is something you already do and want to do more of (like read), or a something you don't currently participate in (learning an instrument, starting a blog).
Create value vs consuming content. This is a huge lesson for all of us. I would challenge you to begin creating valuable content instead of just consuming the content everyone else is putting out. You have a unique perspective and gift on a particular topic, I know it! Share it with others, even just your friends and family. Of course we're not saying all content consumption is bad, but if all you're doing is taking in, without giving some out, it leaves the world without your unique voice on a subject. Please share it with us!
There are so many other great questions and story lines we follow and wrestle with in this interview, and I know you'll enjoy the lessons from this episode.
Listen here
Great Quotes
If you're not ruthless about cutting away stuff that doesn't matter, it will take over your life.

Pick one habit a day that really matters to you, and do it for 10 minutes. You can build on 10 minutes.

I think we all have something our soul really yearns for, and we should do more of those things.

Consuming content is so much easier than creating, but creating is so much more important.
Resources
Where to connect
Help Story Signals hit iTunes New & Noteworthy!
Want to help Story Signals hit the front page of iTunes podcasts? Here are 3 quick ways to help.
If you think Story Signals is deserving, leave a 5 star rating on iTunes or Stitcher. Click here for iTunes, and click "View in iTunes" – "Reviews & Ratings" – "Write a Review" (see the screenshots). For Stitcher, click here. 

Subscribe and download the Story Signals podcast! You'll get each episode delivered the best way for you, whether through iTunes, Stitcher, Downcast, or something else. Here's the ultimate list of resources to get started.
Share with a friend! I would be very appreciate of your recommendations to family, friends, and social networks. If you mention me, @MattRagland, or @StorySignals on Twitter, I'll be sure and retweet the share! Just share StorySignals.com – StorySignals.com/itunes – StorySignals.com/stitcher.